Sale offer hardening oven
Nabertherm-Hardening oven N 41
available as of week 5 / 2020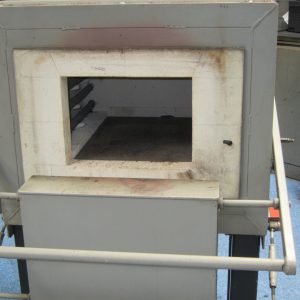 Profile with basic data of the hardening furnace:
Year of manufacture: 1990
Machine numbers: 77833
Modell: N 41
Temperature max.: 1.200 degrees
Inner dimension b x t x h: 0,35 x 0,25 x 0,5 m
Outer dimension B x T x H: 0,85 x 1,35 x 1,40 m
Volume: 41 L
Operating voltage: 380 V
Total power requirement: 12 kW
Machine weight: 350 kg
Nabertherm – Program – Controller C19

with 9 memory locations for 1 program each
Times and temperatures freely selectable
each temperature can be higher or lower than the previous one
Concatenation of up to 3 programs into one work program
Fixed price of the hardening furnace: EUR 1.500,- plus VAT.
Ex works or free suitable truck, cleaned, excluding transport, load securing, transport packaging, transport insurance and customs clearance.
Warranty: none, bought as seen
Condition: well-kept, according to age
Payment: immediately (by credited transfer) to the following
Account:
Stadtsparkasse Mönchengladbach-Wickrath
BIC: MGLSDE33
IBAN: DE25 3105 0000 0000 0103 30
The curing oven can be inspected by appointment. The furnace cannot be delivered early compared to the above mentioned delivery week. Reservations are possible for a limited time against a deposit of 10% of the purchase price. Visiting invitations for entry into Germany are not possible.
On request, we will be pleased to provide you with further data on the curing oven.
If you are interested please contact Mr. Albert Schouten
fon:   +49 (0) 21 66 / 95 22 – 84
fax:   +49 (0) 21 66 / 95 22 – 684
mail: aschouten@b-plastic.com
We ask for your understanding that we can only process those contacts that contain a reachable e-mail address or a permanently reachable, automatic fax number. If you do not receive a response after contacting us, please check these criteria.